This post may contain affiliate links. 
We work closely with our clients to ensure their projects don't just look good, they work well too. This allows our clients to get the most out of their interior design project. We've created this guide to understanding our design process and what you can expect when working together. Whether you have worked with a designer before or are ready to start, we hope this helps you understand what it takes to make sure your interior design project is a success!
Step 1: Onboarding + Homework
After we've decided that we're a good fit to work together, onboarding officially begins. You'll meet the design team and your assigned Procurement Manager, and learn everyone's roles and action items. We'll discuss the workflow, review the scope of the project along with the timeline, discuss your design homework and what you need from us to make your project run smoothly, and introduce you to a personalized Client Portal. We will also have you fill out some homework so we better understand your needs and wants.
Step 2: Mood Boarding
Once your project homework is complete, we'll outline the project timeline, go over budget, and provide suggestions for trusted tradesmen.
Once that is complete, we get to work sourcing furnishings, paint colors, artwork, lighting, window treatments, furniture layout plans, and finding all the decorative items for your home. The end result is a complete digital mood board that outlines our full vision for the project. This includes a complete design vision with specific paint colors, curated furnishings, window treatments, artwork, flooring samples, lighting selections, furnishings, layout suggestions, and styling accessories.
Step 3: Client Presentation
Once our mood boarding is complete, we share our ideas with the client during an in-person client presentation, so you are able to see and touch materials. We will have finished selections and samples available as well as upholstery selections to view in our showroom. During the presentation, we'll take notes on what you'd like to change or any other revision requests. Depending on the amount of revisions, we will have a second design meeting until all design aspects are approved.
Step 4: Shipping and Receiving
When all designs are approved, our team will begin ordering. Your dedicated project manager will order all of your items directly from our trade-only vendors, handle all delivery coordination and track any backorders. As products ship, our receiving warehouse will accept, inspect and store all of your items safely and securely. Your Procurement Manager will send shipping reports to you weekly to keep you up to date with shipping.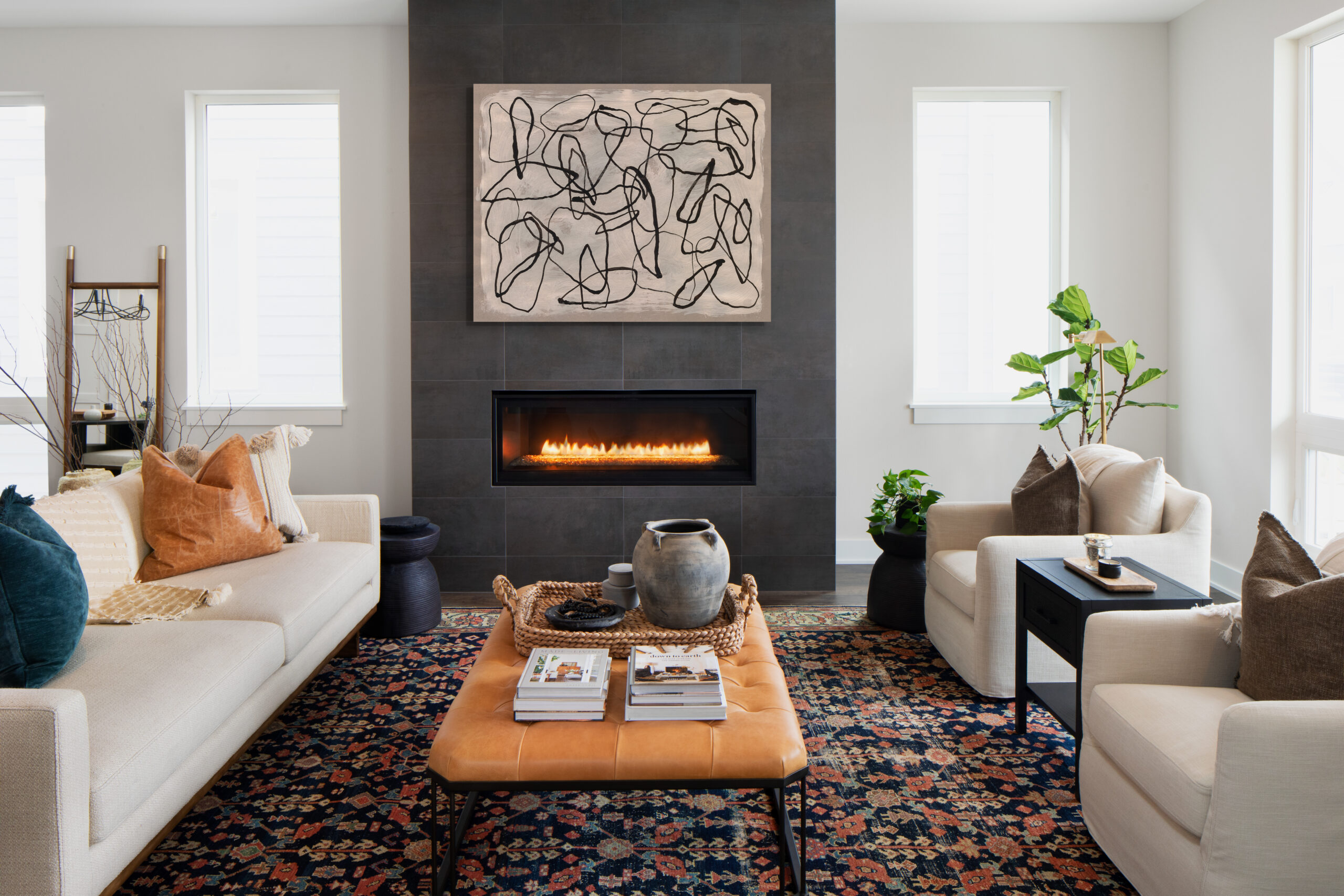 Step 5: Installation
At Stone House, we consider this our own personal design Superbowl! This is where our vision is executed, and we style your home to get our Stone House signature look. Your Procurement Manager will handle all the scheduling and make certain you are prepped and ready for our arrival. Our warehouse team delivers all your furniture and decor. We will place it, style it, and make sure it is perfect. With the current shipping issues, you may have multiple installations.
After your project is completed, we will come into the space with our professional photographers and/or videographers to document your beautiful new space! This may happen during the installation or shortly after depending on scheduling. All invoices, warranty information, cleaning and care guides are packaged up conveniently in a final goodbye packet.
Interested in working with us? 
Begin with completing our Design Questionnaire, so we can get to know you better. From there, our team will reach out to see if we're a good fit. We can't wait to hear more about your project!