This post may contain affiliate links, which means I'll receive a commission if you purchase through my link, at no extra cost to you. Please read the full disclosure here.
Open shelves or floating shelves as they are sometimes called are a kitchen design trend that is here to stay. You can find them in kitchens of nearly every style, usually stacked with an artfully curated selection of dishware and accessories. Open shelves provide an opportunity to show off your personality in the kitchen, but figuring out how to turn your jumble of plates and mugs into a cohesive display can be daunting. Fortunately, there are a few simple design tricks that fuse the practical (bowls, plates, wooden spoons) with the pretty (carvings, lamps, mirrors). Follow these steps for styling open kitchen shelves to effortlessly pull off a gorgeous display.
1. Simplify Your Collection
Open shelves should be reserved for a thoughtful selection of items. Assess your dishware collection and pull out the essentials you actually use every day, such as plates, bowls, mugs, and glasses. Storing these items on open shelves allows quick access to the dishware you use the most, ensuring your display is functional. To avoid an overcrowded look, resist the urge to use up all available space for storage. Find another home for spare dishes and anything you'd rather not display.
2. Mix it Up
Combine everyday dishware with accessories to create a more interesting arrangement. Add items that can add dimension and personality to kitchen floating shelves. These things can include a potted plant, books, trays, candles, wine, and other decorative accents that coordinate with your kitchen's color palette. Check out what we used in the image below: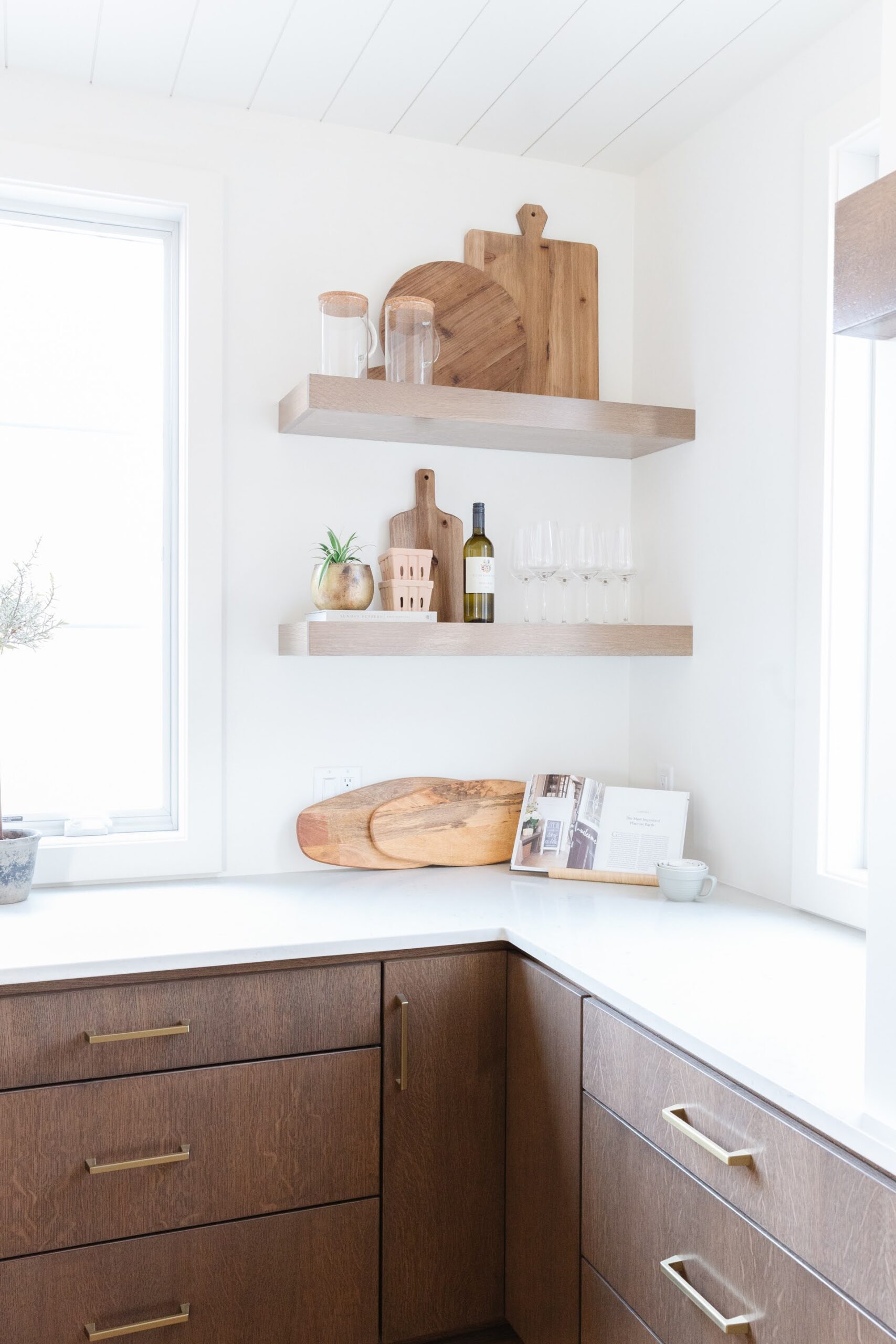 3. Work In Sections
When it comes to the flow of your shelves, we recommend working in sections. This will help you add in decor and dishes without making it seem off balance. We also recommend considering ease of access as you decide where to place items on open shelves. For example, dishware you use on a daily basis should be arranged on lower shelves so it's easy to reach. Reserve the top shelf for lesser-used items like fancy glassware or artwork and accessories that are just for show.
4. Vary Size and Scale
Use items in a variety of shapes and sizes to create a more visually interesting arrangement. Start with your largest objects, such as framed art, wood cutting boards, or tall vases, and spread them out across the shelves. Next, fill in the gaps with medium-sized pieces, taking care to space out items with similar colors, patterns, or shapes for a balanced look. Intersperse the display with your smallest accessories to create a layered, collected effect.
It's best to leave some space between items so the arrangement doesn't appear too busy, but feel free to overlap a few pieces for a more casual display. Keep moving things around until you find a combination you like.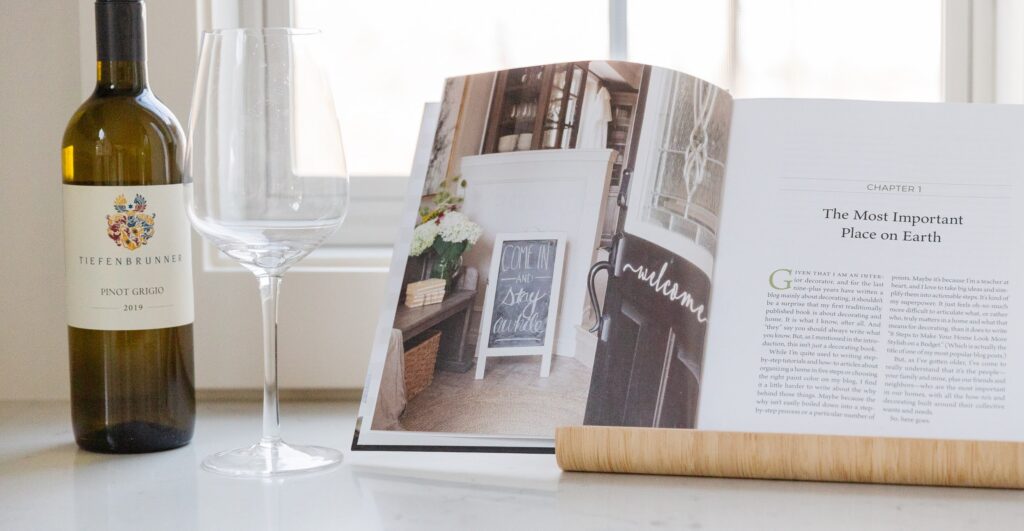 5. Accessorize the Under-Shelf Area
Don't forget about the space underneath when decorating floating kitchen shelves! Use this countertop area to ground the arrangement and complete the look. Lean a few wood cutting boards against the wall for a bit of texture and warmth, or add a cookbook with a bowl of fruit or potted herbs for freshness.
LIKE THIS POST? SAVE IT FOR LATER!